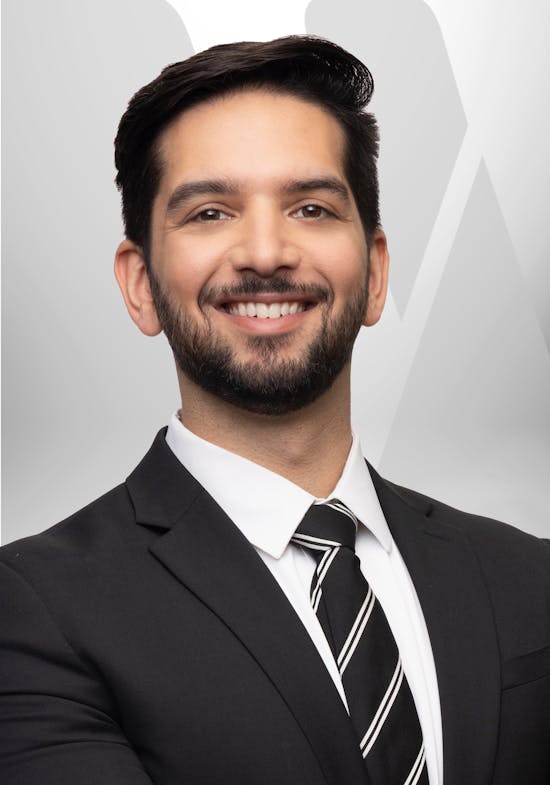 Jibraeel "Jib" Zaidi
Attorney
Jib Zaidi - Personal Injury, Truck Wreck and Car Accident Lawyer in Dallas, Texas
Jibraeel "Jib" Zaidi has considered himself a Texan for the last 15 years. He attended the University of Texas at Austin where he majored in Economics and Philosophy before attending the SMU Dedman School of Law, where he graduated with honors. After law school, Jib started his own practice where he successfully defended a breach of contract and fraud claim and successfully counter-sued for a six figure verdict. Afterwards, he joined a Dallas personal injury practice for several years before finding his home at Witherite Law Group.
While in law school, Jib was an extern to the Honorable Justice Elizabeth Lang-Miers at the Fifth Court of Appeals, served as Assistant Managing Editor for the International Law Review, and was the 2L Representative for the Student Bar Association. He was also a member of the Mac Taylor Inn of Court and a volunteer with the Dallas Kids Project.
From the beginning, Jib aggressively pursued a career as a trial attorney. Jib was an active competitor in law school, with high placements at the National level ABA Arbitration Competition and National level Client Counseling Competition. His advocacy was recognized by induction into the Nation Order of the Barristers in his 3L year. After graduation, he pursued his passion for trial work by joining a personal injury practice and has loved it ever since. He transitioned to Witherite Law Group where he enjoys the culture of providing quality dynamic representation to victims of car and truck wrecks, while building personal relationships with his clients.
In his spare time, Jib enjoys reading, going to the gym, traveling, and binging on Netflix.
Top Settlements and Verdicts
$130,794.03
Total Amount to Client
Police Officer Struck Directing Traffic
Defendant struck the client (a police officer) when she was directing traffic. She injured her lower back and hip. The liability insurer denied there was an injury, but ultimately paid twice the policy. 
$123,792.97
Total Amount to Client
Rear-Ended By 18-Wheeler Reveals Similar History of Conduct
Commercial case with $300k settlement made possible by securing witness statements, threatening to uncover company negligence, pushing on the federal regulations. Client was rear-ended by an 18 wheeler and required low back surgery. We uncovered a history of similar conduct from the trucking company. 
$112,111.25
Total Amount to Client
Commercial Vehicle Backs into Car in Parking Lot
Client injured when a commercial vehicle backed into him in a parking lot. Client injured his left shoulder and required surgery. 
$80,354.41
Total Amount to Client
Rear-Ended By 18-Wheeler Failing to Stop for Traffic
Client was traveling on interstate when she came to a stop due to traffic. 18-wheeler failed to pay attention and rear-ended our client and caused our client to rear-end the car in front of her.
$48,997.19
Total Amount to Client
Improper Turn Results in Eye Injury
Defendant turned left in front of the vehicle where client was a passenger. Client injured his neck and left eye. Resulted in a complicated eye injury.
$40,827.36
Total Amount to Client
Rapid Response Team Aquires Video Footage of Crash
Commercial case with very minor property damage. We were able to get a great settlement thanks to Rapid Response Team securing video of the crash. 
$37,456.95
Total Amount to Client
Vehicle Runs Stop Sign Hitting Vehicle into a Yard
Defendant ran a stop sign and hit client's vehicle hard enough to push it into the yard of a nearby house. Client injured his right arm, neck, and back. The insurer refused to tender their $30k policy and ended up paying 5x that amount. 
$30,114.92
Total Amount to Client
Side-Swiped By 18-Wheeler While Pulled Over
Client pulled over to check on his trailer, which then was sideswiped by a passing 18 wheeler. The impact of the crash pushed the vehicle into client. The 18 wheeler driver heavily disputed the facts of the wreck. We were able to recreate the scene of the wreck to show that the Defendant's version was inconsistent.
$18,668.25
Total Amount to Client
Improper Turn Results in Above Policy Limit
Defendant turned in front of client causing a collision. Client injured his back and aggravated the rod in his leg. Blown Stowers case where the insurer paid nearly 3x the policy.