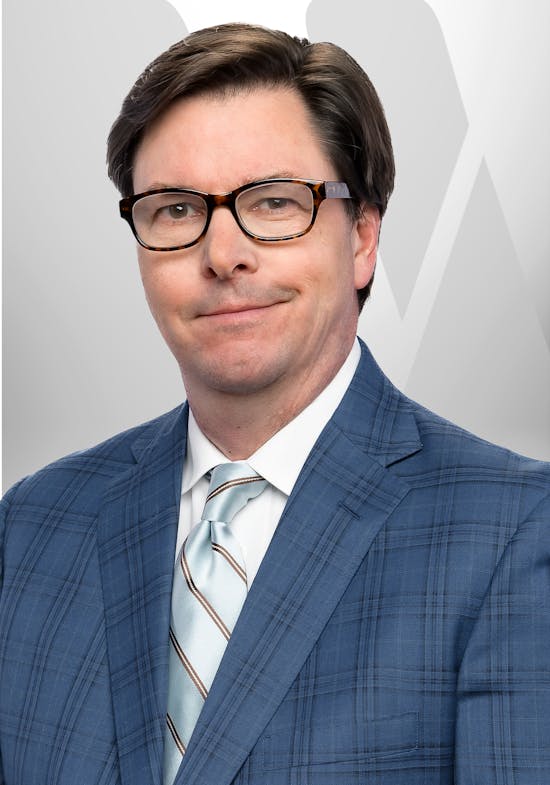 Sean McEvoy
Attorney
Sean McEvoy - Personal Injury, Truck Wreck and Car Accident Lawyer in Atlanta, Georgia
Sean has important insights into the inner-workings of insurance and transportation companies. More than twenty years ago he began his legal career at a law firm that specialized in defending railroad, intermodal and commercial carriers. More importantly, he learned how these companies respond to catastrophic accidents, analyze claims for settlement and prepare for trial. He took that knowledge and began a career pursuing justice against those trucking companies, whose negligence caused catastrophic injuries and death. He has been involved in trucking cases in more 25 states.
At the Witherite Law Group, Sean now uses his past experience and knowledge to evaluate, plan, and prepare cases to secure the best compensation for individuals and families who are injured as a result of the carelessness of these transportation companies.
As an attorney, Sean has successfully argued motions and appeals and has tried cases to verdict in multiple state and federal courts. One of his trademarks is his ability to analyze complex fact patterns and to develop creative legal approaches favoring his clients. That expertise and his "out of the box" thinking often leading to solutions to problems others have missed are just two of the reasons he attracts clients and referrals to the firm.
When Sean is away from the office, he spends most of his time with his family. He and his wife, Emily, grew up in Atlanta and attended the Marist School. Emily is employed as an Occupational Therapist by the Gwinnett County School System in the Special Education Department. She works on a day to day basis with special needs children and is active within the community providing further assistance to families of special needs children. Sean and Emily have two children, Emma and Hudson.
Top Settlements and Verdicts
$991,881.57
Total Amount to Client
Tractor Trailer Makes Improper Lane Change
Our client was traveling on I-75 South when a tractor-trailer made an improper lane change striking the driver side of our client's car, causing it to spin before coming to rest. Client had to undergo shoulder surgery and a lower back surgery.
$569,156.66
Total Amount to Client
Tractor-Trailer Makes Unsafe Lane Change Leading To Overturned Vehicle Accident
Our Client was driving on the interstate when a tractor-trailer made a right-hand lane change into a lane that was already occupied by our client. While our client was able to maintain control of his vehicle after the first impact, the second impact caused his car to swerve out of control into a spin and off the roadway, where it overturned into a drainage ditch. The client had to have several injections and a cervical micro-discectomy as a result of his injuries.
$219,792.52
Total Amount to Client
Tractor Trailer Improperly Changes Lanes Rear-Ending Client
A tractor trailer improperly changed lanes while driving on I-285, striking the rear corner of our client's vehicle. The force of the impact caused our client to injure her back and neck.
$164,726.74
Total Amount to Client
18-Wheeler Cuts into Family's Vehicle While Turning
Our client was driving his two children home and had just exited the freeway. At the bottom of the ramp, they were waiting for the light to change to make a left-hand turn. The lane to the right of their vehicle was also a left-hand turning lane, which was occupied by a tractor trailer. When the light turned green, they both began left-hand turns. Unfortunately, the 18-wheeler's trailer began to cut into our client's lane. This is known as "off-tracking," where the trailer does not follow the same path as the tire on the truck but instead makes a sharper turn, often encroaching into the adjacent lane of traffic or even onto sidewalks. The trailer's rear tandem set of tires struck our client's car and nearly ripped off the front right wheels of his vehicle. Our client's driver sustained neck injuries, and his children were treated at an emergent care facility and released. After striking our client's vehicle, the truck driver fled the scene. Fortunately, we were able to identify the company and resolve our client's case.
$156,068.55
Total Amount to Client
18 Wheeler Back Into Clients Tractor Trailer
Client was driving a tractor trailer preparing to drop a load at a distribution center when another 18-wheeler backed into the cab of her truck injuring her back.
$152,505.00
Total Amount to Client
Box Truck Loses Control And Crosses Center Line
Client's vehicle was struck by a box truck that lost control and crossed the center line striking another vehicle and then client's vehicle causing her to suffer low back injuries.
$121,434.57
Total Amount to Client
Box Truck Fails to Stop and Rear-Ends Vehicle
Our client was driving on the interstate in stop-and-go traffic. As the traffic ahead of her slowed to a stop, she applied her brakes. The driver of the box truck following behind her failed to bring his truck to a stop and rear-ended her vehicle. She suffered injuries to her neck and low back, which required injection therapies. We were able to show the insurance company that commercial truck drivers are required to maintain following distances that will provide them sufficient time and distance to bring their trucks to a stop without rear-ending the vehicle in front of them. This commercial truck driver failed in that regard.
$121,270.90
Total Amount to Client
18-Wheeler Rear-Ends Car Stopped for Wreck
We represented both the driver and her passenger in this case. Our clients were driving on the interstate when they encountered a wreck ahead of them, along with first responders that were at the scene. Our clients began to slow as they approached the site of the wreck and first responders, and they were struck in the rear by an 18-wheeler. One of our clients suffered injuries to her neck, while the other client had low back injuries. Truck drivers are required to look at least 12 seconds ahead of their vehicles when they are driving on highways, so that they can see upcoming hazards like an accident scene. That is supposed to provide time for the truck driver to create a plan to avoid any such approaching hazards, whether it be slowing down, changing lanes, or both. In this case, the truck driver failed to make a proper visual search and was following too closely.
$105,334.86
Total Amount to Client
18-Wheeler Strikes Car from Behind into Other Car
Our client had just exited one interstate and was rounding a large curved entrance ramp onto another interstate when traffic came to a stop ahead of him. He came to a stop, as did the car behind him. Then, without any warning, an 18-wheeler struck the car that was behind our client, knocked it into the shoulder of the interstate, and then the 18-wheeler continued forward, rear-ending our client's vehicle. Our client suffered shoulder injuries, which required arthroscopic surgical repair. At first, the trucking company denied responsibility, claiming that the it was a "blind curve," preventing the truck driver from seeing the slowing traffic until it was too late. We were able to prove that truck drivers are required to stop within the distance that they can see, especially when driving around a "blind curve."
$102,347.13
Total Amount to Client
18-Wheeler Driving Erratically Sideswipes Car
Our client was driving on the interstate when an 18-wheeler began to swerve back and forth across his lane. The 18-wheeler suddenly came into our client's lane, sideswiping her vehicle. The truck driver tried to blame our client at the scene, but we were able to convince the trucking company's insurance that he was at fault in the collision. Our client's vehicle had to be towed from the scene, and she suffered neck and back injuries. We were able to resolve this case for the full amount of available liability insurance.
$94,036.64
Total Amount to Client
Tractor Trailer Side Swipes Vehicle In Parking Lot
Client was in a grocery store parking lot when a tractor-trailer sideswiped her vehicle, knocking it sideways. The collision aggravated a pre-existing condition in her hands requiring an out-patient surgical procedure.
$20,996.32
Total Amount to Client
Overturned Moving Truck Injures Laborer
Our client was employed by a moving company as a laborer. He was injured when the moving truck he was riding in as a passenger overturned. We were able to show that the moving truck driver was driving too fast for conditions when he lost control of the truck. However, the trucking company took the position our client should be covered by workers' compensation, which would have greatly reduced his recovery. Instead, we were able to prove that our client was an independent contractor at the time of the collision and not an employee. Our client sustained neck and low back injuries in this rollover collision. We were able to resolve his case for the full amount of available liability insurance.