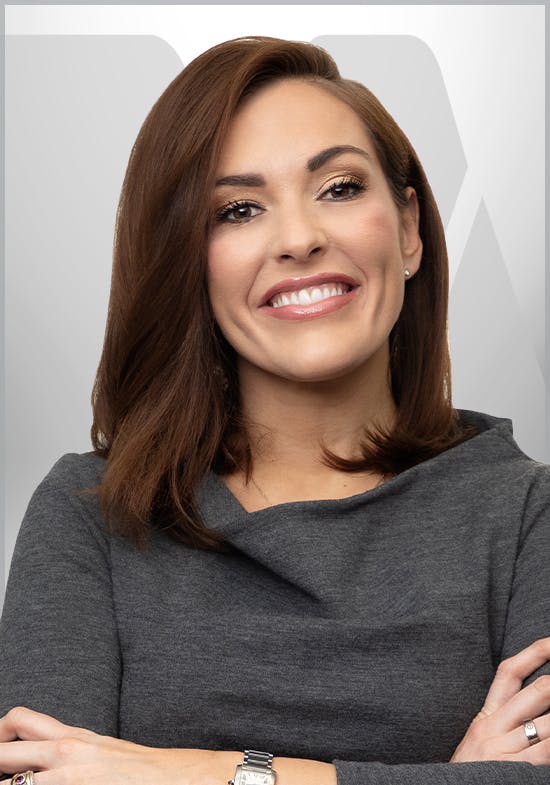 Lauren Jobin
Attorney
Lauren Jobin has dedicated her entire legal career to the representation of individuals that have been injured. She began her career at a small Plaintiff's law firm in Dallas where she represented injured individuals, handling their cases personally from start to finish. Prior to joining Witherite Law Group, Lauren worked at another personal injury firm, which focused primarily on wrongful death and catastrophic injury litigation. Her experience has allowed her to become extremely knowledgeable about all aspects of personal injury cases from inception through settlement and all the way to a jury verdict. She has first chair jury trial experience and has achieved favorable outcomes on behalf of her clients.
Lauren is honored to be an attorney at Witherite Law Group, and to have the opportunity to represent those who have been injured and need an experienced attorney to represent their interests. Her primary areas of practice include: personal injury, general negligence, car wrecks, truck wrecks, premises liability and products liability. Her passion for representing individuals extends into the community as she serves in leadership positions in organizations dedicated to the protection of the 7th amendment, the right to trial by jury.
Lauren earned her Bachelor of Arts from Southern Methodist University. She received her Juris Doctor from St. Mary's University School of Law, where she also was a member of the External Mock Trial Advocates program. She is currently a member of the State Bar of Texas, State Bar of Louisiana, the Dallas Association of Young Lawyers, American Association of Justice, the Texas Trial Lawyers Association and the Dallas Trial Lawyers Association, where she currently serves on the Board of Directors.
Top Settlements and Verdicts
$303,900.95
Total Amount to Client
18-Wheeler Changes Lanes Dragging Vehicle Underneath
Lane change collision involving an 18-wheeler that changed into client's lane and dragged her vehicle underneath in Parker County. Client underwent left knee and low back surgery.
$106,223.32
Total Amount to Client
Commercial Vehicle with Bald Tires Rear-Ends Vehicle
Defendant was a commercial vehicle that rear ended client pushing her vehicle into the vehicle in front of her. Defendant had bald tires at the time of the MVA.
$93,391.64
Total Amount to Client
Lane Change Collision with an 18-Wheeler
Disputed lane change collision involving an 18-wheeler. Settled at a second mediation after discovery of the lack of policies and procedures to ensure 18-wheeler drivers were given proper safety training.
$84,661.74
Total Amount to Client
Pedestrian in Love Field Parking Garage Struck By Vehicle
Pedestrian in parking garage of Love Field airport that was struck by a vehicle. Client was recommended an arthroscopic knee surgery following the incident.
$77,011.45
Total Amount to Client
Box Truck with Inattentive Driver Rear-Ends Driver
Our client was rear-ended by a box truck with an inattentive driver and underwent multiple injections.
$72,992.70
Total Amount to Client
18-Wheeler Rear-Ends Other 18-Wheeler into Guardrail
Client was on-the-job operating an 18-wheeler when he was rear-ended by another 18-wheeler and pushed into a guardrail.
$71,537.03
Total Amount to Client
Box Truck Driver with History of Reckless Driving Rear-Ends Vehicle
Defendant was operating his box truck, and rear-ended client's vehicle. Defendant has an extensive history of reckless driving including driving in excess of the speed limit, operating a motor vehicle without license plates and expired driver license.
$59,625.66
Total Amount to Client
Concrete Truck Unable to Stop and Rear-Ends Vehicle
Our client was rear-ended by a concrete truck that was unable to stop in time due to exceeding weight restrictions causing her to suffer injuries to her neck and back, along with headaches, nausea and pain going down her legs. She eventually underwent epidural steroid injections to her low back and suffered prior chronic pain issues
$57,450.58
Total Amount to Client
Driver on Cell Phone Fails to Stop at Stop Sign
Defendant failed to yield the right of way and ran a posted red stop sign. Defendant was talking on his cell phone at the time of the collision. Settled at second mediation after amending and adding gross negligence for cell phone use.
$44,545.35
Total Amount to Client
Drunk Driver with Criminal History Hits Vehicle
Our client was hit by a drunk driver with a long history of criminal charges.