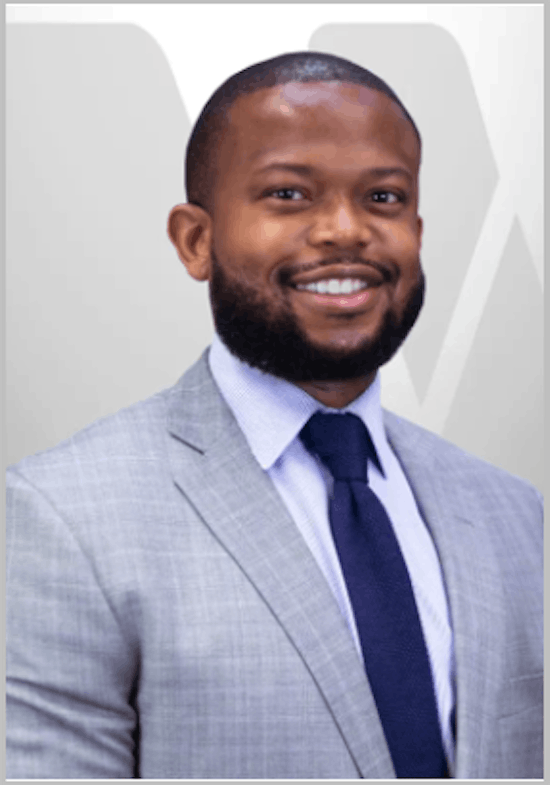 Kingsley Ewenike
Attorney
Kingsley Ewenike was born in Dallas but raised in Little Rock, Arkansas. He was raised by a single mother who became an attorney while he was a child. Her journey sparked his interest in law at a young age. He attended Oberlin College, majoring in Sociology with a minor in Law and Society. He played on the men's varsity basketball team and also served as a student assistant coach for the team. An entertainment law internship with renowned attorney Bernard Resnick solidified Kingsley's desire to become an attorney.
Following college, Kingsley moved back to Little Rock and attended the University of Arkansas at Little Rock School of Law. While there, he was a prominent member of many organizations including BLSA (Black Law Students Association), the Sports and Entertainment Law Organization and the Street Law Mentoring and Mock Trial Program, where he served as president.
Kingsley served Bexar County for four years, after which he accepted a role in the Dallas County District Attorney's office where he prosecuted over 100 DWI cases, including multiple incidents with injured victims. This experience developed Kingsley's desire to help those injured in motor vehicle accidents. He eventually transitioned into personal injury law and worked in the Dallas area as a plaintiff's attorney for two years before joining Witherite Law Group's legal team.
In his free time, Kingsley enjoys sports and fitness, and traveling and spending time with friends.